Pranavam's Training
What do you need to become a good Kuchipudi dancer?
The most experienced teacher says you just require four "D":
DESIRE;
DISCIPLINE;
DEVOTION;
DETERMINATION.
Music and dance center Pranavam keeps learning traditions of Kuchipudi Art Academy founded by Guru Chinna - a legendary Vempati Satyam, through which the Kuchipudi style has acquired the status of classical dance. Classes are held by a Master of Kuchipudi Dance - Movisha Shivashankar. She got that high degree at the Central University of Hyderabad (India) and is constantly improving her skills in India.
The Kuchipudi training program
1st year
Dance is physical work, that requires a constant training. The body has to aquire its own mind. The muscles have to learn a new discipline of movement. A novice dancer must feel the balance, learn motor coordination and many other important aspects of Indian classical dance. When the body is involved in some new activities, it requires attention and involvement of mind: you will need to learn how to concentrate, to analyze and find a solution. Conversely, when the body gets tired of the activity, the mind is obliged to arm muscles with discipline and endurance. Daily practice of basic Kuchipudi's "steps" – dahulu in combination with hand gestures - astami, creates a solid basis for the future dancer. In addition, we will study "gait" - Cari, a typical dance poses - stance, the position of the feet - pada-bheda, dozen combinations of different "steps" - jati, the rhythmic cycle Tala, etc.
ADI Tala is the most common rhythm in Kuchipudi. Khanda chapu Tala and Mishra chapu tala are quite often used too.
Dancer must possess at least a basic musical knowledge. Performers of Kuchipudi always sang and danced. Times have changed, but the importance of knowledge of music and singing cannot be overemphasized. We help to develop vocal abilities with basic exercises of Carnatic.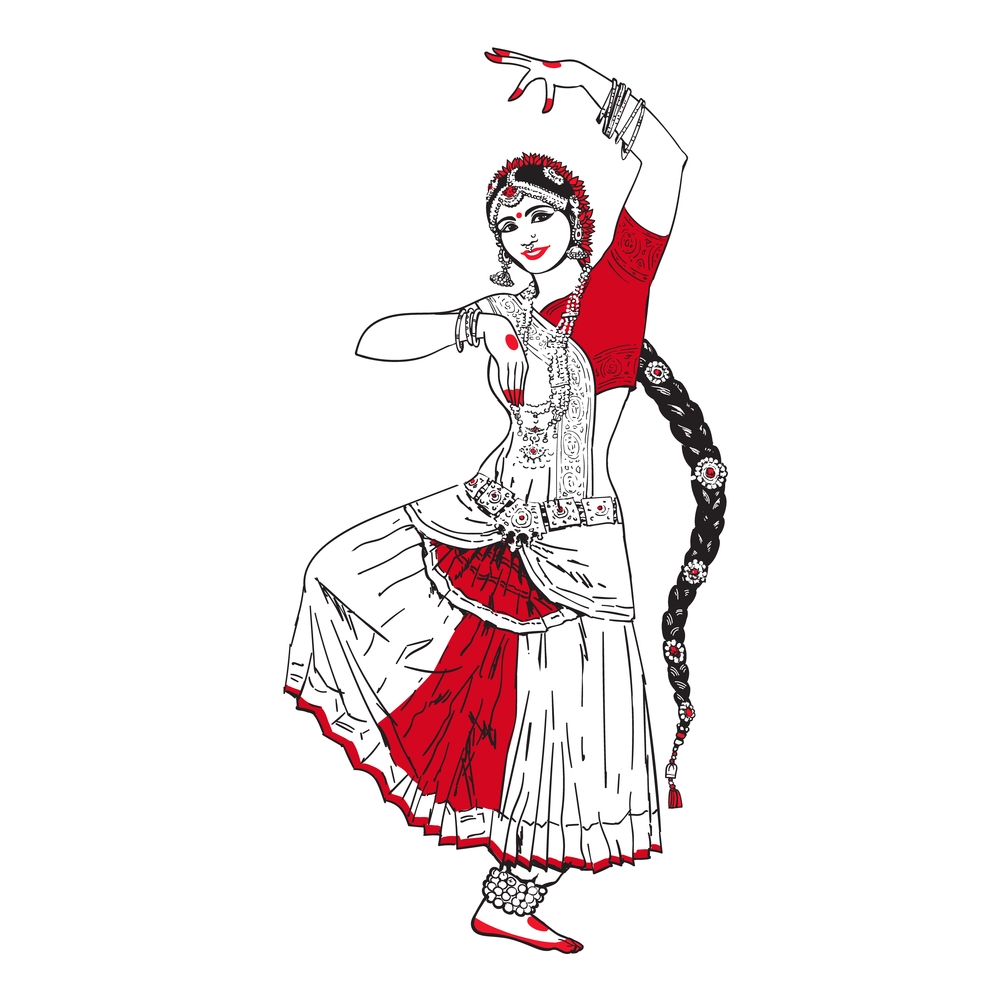 South Indian musical tradition
Do not expect immediate results. Do not think you will be able to learn something without effort. Dance Way will never open to those who want to go through it easily. You can't buy, copy or steal. You can only learn it in the way like a seed grows from a tree. Creation of the true master need years to understand. Maturity means the possibility to appreciate knowledge received by hard work..
To memorize and assimilate information learned in lessons, buy a special notebook, and always carry it with you to the classes. Train you spirit and learning will be a joy for you.
2nd year
In fact, it is impossible to say exactly when the student will begin to dance. The body has to become strong and resilient, and the mind enlightened. The Kuchipudi dancing doesn`t include any dance, that lasted less than 7 minutes. Moreover, the dancer has to convey the inner meaning of dance to the hearts of the audience! Otherwise it will not be Indian classical dance. Analyze yourself: in India daily practice of dancers takes them at least 4 hours.Thus, for his first recital (it's called Rangarajan and lasts for 2 hours) the student prepares at least 5 years and can exercise the proper way only with the blessing of the master.
Now, answer the question honestly:
How much time am I willing to devote to dance?
Your answer means a lot!
3rd year You will learn a lot by this time, provided that you have the 4D's : DESIRE DISCIPLINE DEVOTION , and DETERMINATION.
Kuchipudi, like the other Indian classical dances, is very symbolic. One dancer`s gesture can mean a word, a phrase, and even to remind the audience about the mythological events and ancient legends. To fully enjoy the art of Indian dance, the viewer must understand its symbolism. In the Avout Us section you will find interesting information about the heroes of Indian classical dance and their characters.